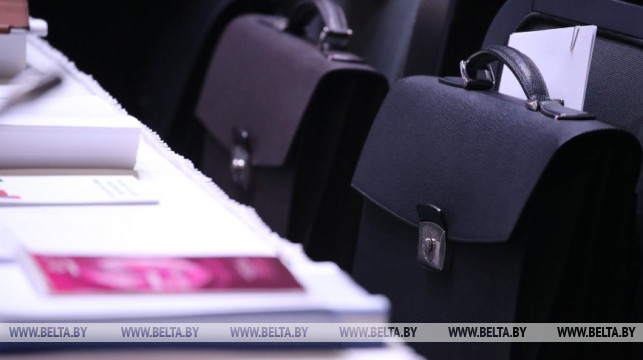 Mongolia wants to study Belarus' expertise in industry, agriculture
23.09.2019
MINSK, 6 September (BelTA) – Mongolia would like to study Belarus' best practices in agriculture and manufacturing, BelTA was told by the press service of the Ministry of Foreign Affairs following the fourth round of bilateral political consultations conducted by deputy ministers of foreign affairs of Belarus and Mongolia in Minsk on 5 September.

The Belarusian delegation was led by Deputy Minister of Foreign Affairs Andrei Dapkiunas, the Mongolian delegation was represented by Deputy Minister of Foreign Affairs Batmunkh Battsetseg.

The Mongolian official expressed hope that the two countries will continue fruitful cooperation on the international arena. She asked the Belarusian Ministry of Foreign Affairs for help with studying Belarus' extensive expertise and knowledge in agriculture and industry. Andrei Dapkiunas pledged all kinds of assistance on the part of the Belarusian Ministry of Foreign Affairs.

The delegations held an in-depth discussion of the bilateral agenda. They expressed satisfaction with the level of political contacts and inter-parliamentary cooperation and reaffirmed commitment to facilitate trade between Belarus and Mongolia. The parties also discussed preparations for mutual visits at the high and highest levels. A proposal was put forward to consider joint projects in transport, logistics, and agriculture in bilateral and multilateral formats.

Andrei Dapkiunas and Batmunkh Battsetseg discussed in detail the geopolitical situation in Central and Eastern Europe, Northeast and Southeast Asia. They urged to build long-term political and business ties in order to make the most of the industrial and transit potential of the two countries with the ultimate goal of entering markets of the neighboring states.

Andrei Dapkiunas pointed out that the leaders of Belarus and Mongolia share the vision of what should be done to facilitate an international dialogue on building a solid security and cooperation system in Eurasia.
https://eng.belta.by/politics/view/mongolia-wants-to-study-belarus-expertise-in-industry-agriculture-123923-2019/