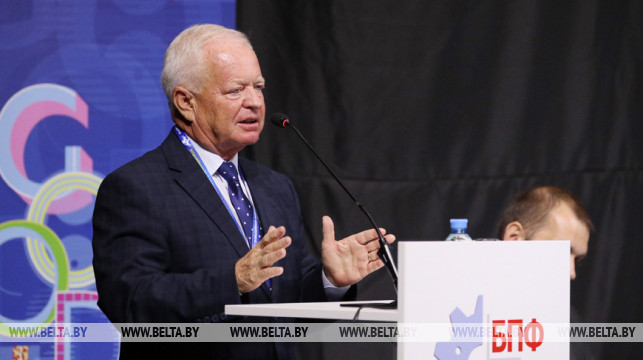 Slovakia to invest €15-20m in agricultural projects in Belarus
18.09.2019
MINSK, 18 September (BelTA) – Slovakia plans to implement a big investment project in the agricultural sector of Belarus. According to the preliminary estimates, investments may reach €15-20 million, Ambassador Extraordinary and Plenipotentiary of Slovakia to Belarus Jozef Migas told the media ahead of the Belarusian-Slovakian Economic Forum held as part of the Belarusian Industrial and Investment Forum in Minsk on 18 September, BelTA has learned.

"One of the recent key topics [for bilateral cooperation] is to set up joint agricultural companies. We have an investor. The project will be implemented in Grodno Oblast and Brest Oblast. If we manage to implement this project, it will be the biggest Slovak investment. We are talking about the sum of about €15-20 million," the ambassador said. Such large financing is due to the fact that the investor will need to create an innovative technological base.

Today this issue is being discussed at the level of the deputy prime ministers, governors of Brest and Grodno regions, according to Josef Migas. "I can say that the negotiations are not easy as there has never been such a volume of investment in agriculture in Belarus," the ambassador informed. Before making a final decision, the parties need to think through everything, weigh up many things, ans draw up business plans, the diplomat said.

According to him, Belarus has put forward certain conditions. Among them is preserving jobs and the agricultural profile. Slovakia is ready to fulfill these requirements. If we manage to meet all the conditions, we will be able to start plowing and sowing as early as this spring," Josef Migas said.

As for other areas of bilateral cooperation, the Slovak side currently has a number of micro-grants related to humanitarian activities and social issues, the ambassador said. For example, projects will be implemented to help schools and other children's educational institutions in Grodno Oblast and Mogilev Oblast.

Slovakia Deputy Minister of Foreign and European Affairs Lukas Parisek also noted good opportunities for developing cooperation in agriculture with Belarus. "You have a lot of experience in this area. We also know that Belarus is good in IT, so I see the potential in this industry," he added.

The Belarus-Slovakia economic forum was organized by the Belarusian Chamber of Commerce and Industry in collaboration with the Slovak Embassy in Belarus and the Slovak Investment and Trade Development Agency (SARIO). The participants considered the prospects for bilateral trade and economic cooperation, tools to support business and investment. Successful innovative projects were presented and some documents were signed. Representatives of companies from Belarus and Slovakia held talks on cooperation in engineering, food, chemical industry, environment and energy conservation, wood working, energy, air ventilation and conditioning systems, electrical installations, and others.

https://eng.belta.by/economics/view/slovakia-to-invest-15-20m-in-belarus-agricultural-projects-124252-2019/